The SPiN Art Residency at Fred's Finca Ibiza is a true Art Escape with the foresight to engage in creating a better world through art.
All projects, thoughts, talks and direction of this residency will require the above objective. Whatever your genre of art is, the project must be based on creating a greater awareness (and hopefully solutions) of the important issues that our planet now faces, whether it is a social issue, cultural, institutional or political issue, etc. I.E., pollution, immigration, equality issues, race, plastics in the ocean, gender, etc.
=-=-=-=-=-=-=-=-=-=-=-=-=-=-=-=-=-=-=-=-=-=-=-=-=-=-=-=-=-=-=-=-=-=-=-=-=-=
It is also designed to encourage the creative, intellectual and personal growth of emerging and established visual artists. Without the pressures from normal daily life, the attending artists will engage in progressive ideas and critical thinking to take risks and have mutual dialogue with other international artists. In addition to painters, sketch artists and print makers, the residency accepts writers, photographers, videographers, new media artists and graphic designers.
The SPiN Art Residency is the brainchild of gallerist and artist Victor Spinelli who has lived in Ibiza since 2001. His objective is to jumpstart creative conversations to push the envelop of forging a much greater awareness about the plight of our planets issues. Art is an incredible catalyst to do this. Art can engage the subconcious of its viewers which can therefore develop into real and tangible changes for a better future.
=-=-=-=-=-=-=-=-=-=-=-=-=-=-=-=-=-=-=-=-=-=-=-=-=-=-=-=-=-=-=-=-=-=
The SPiN Artist Residency at Fred's Finca Ibiza
-The application deadline for the Spring Artists Residence Program deadline is February 10, 2020 and must be submitted via our online application form.
February 10, 2020: Online application submital deadline.
March 10, 2020: Notification to accepted applicants/recipients.
Spring residence: April 14-28, 2020. Ibiza, Spain
Approximately 15 artists will be in residence during each term. Fred's strives to have an equal mix of emerging and established artists working together.
Emerging Artist: Open to any age over 18. Artists should have completed a B.F.A. or M.F.A. program who seek to build upon their confidence in the early stages of their career. You might not have had a major exhibition but you are on your way. Your artistic journey will be greatly aided by working in this creative communal environment and three weeks of time to focus on your art.
Established Artist: Open to any age over 18. Established visual artists that have preferably ten years or more of studio practice with major exhibitions under their belt and who has work placed in collections or museums. Our residency also welcomes established artists that teach in respected art colleges and universities.
Important Dates for the Spring Artists Residency
February 10, 2020: Online application submittal deadline
March 10, 2020: Notification to applicants/recipients
WHAT TO EXPECT
Fred's Finca is a unique resort in the centre of Ibiza's UNESCO protected natural park and was opened 40 years ago by a legendary gent called Fred. Today, Fred is in his eighties but you will still see him floating around the pool area throughout the summer; the vibe that he's created explains why Fred's attracts such a wide variety of people, from artists, Dj's, Yogi's, fitness and wellness influencers to authors, the LGBT community + more; it's a meeting place of mind and spirit.
This beautiful oasis is a walk away from Es Cavellet beach, Salinas beach, and some of Ibiza's most famous beach clubs, such as El Chirnguito, El Chiringay, Escollera, Sa Trinxa and The Jockey Club. Fred's also happens to be situated next door to the legendary super club DC10, and only 10 minutes from Playa den Bossa and Ibiza Town in a taxi; making Fred's the perfect spot for anyone wanting to enjoy Ibiza's beauty and lustrous night life.
Housing: Each of Freds 9 eclectic rooms are vastly different. Each one a story. Your story is next. You will have a shared room and will be given all the comforts of home. There are many nooks and crannies throughout Freds, indoor and outdoor lounge areas with WiFi. This housing will be available only during the dates of the residency. Early arrivals and late departures are not permitted. Cleaning of the rooms and changing of the linens/sheets will be provided every week, by hotel staff. Residents are required to leave the accommodations in the same condition as when they arrived.
In the middle of the term we will inspect the rooms during cleaning and a final inspection will happen before checkout. Only pencil sketching on pads is allowed in any of the Auberge rooms. No painting or any other art medium is allowed in the rooms.
Meals: There will be one buffet Breakfast every morning at the residency and then a bar for other pre-made salads, sandwiches and drinks for purchase throughout the day. All other meals are the responsibility of the resident. Each room will have a small refrigerator for residence to use, however no cooking is allowed in the rooms. No kitchenware, i.e. cups, plates or utensils leave the dining areas.
Pool Bar
Fred's pool bar will be open daily and will also have pre-made gourmet sandwiches for sale and other goodies.
Studio Space: Residents organically share an open studio space. We will have several studio areas set up. You are also very welcome to temporarily find your own space among Fred's many angles, indoor and outdoors. We also have a 15x8 meter Moroccan Tent that will be available to work in. Residents can work in their studio space for 7 days a week, at all hours. The use of headphones is recommended while listening to music in the studio spaces. Residents are responsible for their own studio space and proper rubbish disposal. Studio spaces are assigned based on resident artist proposals, applications and studio availability, however studio spaces can be changed or reassigned with approval of the Creative Director. Residents are required to return studio spaces, tools and all checked out equipment to their original condition at the close of the residency. Fees for damage tools or equipment will be charge to individual residents.
Staff Support: A Creative Director and assistants, all of whom are practicing artists will be available for any inquiries with residents regarding work throughout the residency. We recommend that each resident console with the Creative Director before arriving at Fred about the aspirations and breadth of their project.
Supplies: Each resident is responsible for ALL of their own supplies such as paint, ink, canvas, wood, glue, clay, hardware, paper, etc. Many of these art materials will be available on site and also on the island.
We will provide 3 art styles of studios:
Painting/Mixed Media Studio, Drawing Studio & Print Making Studio : Residents are provided with an open studio set up. The following equipment will be available: work tables, easels and stools. The residency strives for a non toxic environment therefore painting residents are limited to using linseed oil as a medium and odorless mineral spirits (gamsol) as a solvent (provided by the residency). Prohibited mediums include but not limited to the following: turpentine, spray (aerosol) paints, synthetic resins and fixatives.
We also accept writers, poets, film makers, photographers, etc. This residency is designed as a think tank for changing the world. All genres of art are accepted.
Art Professors: There will be several rotating distinguished Art Professors, Art Historians, curators, critics, etc, staying at Freds several times during the two week period.
General Residency Guidelines: The SPiN Art Residency has an open studio policy and will be open to the public from 12:00am-6:00pm Monday-Friday. There will be public art events organized and with this being Ibiza, most likely parties of some sort, happening throughout the month. Residents will be notified well in advance of the event schedule.
We will organize a gallery show at the end of the month and residents may submit artwork to the SPiN Art Residency for sale. Work can be gladly submitted and is subject to approval. We would absolutely love it if you could subsidize your travel costs with a sale of your work! You will receive a 50% commission on any work sold.
Art Symposiums: There will be art talks and discussion sessions throughout the entire residency.
Art Films will be shown several nights per week in The SPiN Tent.
WHAT TO BRING. In Ibiza, the temperature in April is averaging 15°C (59°F) with daytime low/highs from 11°C- 19°C (52-66°F) and rain falls only about 20% of the time.
Just in case, bring some cool weather clothing that you can layer, sweaters, a hat, scarf. The rooms can be a little humid as well. The beaches are excellent but during this time of the year the sea is cooling down. Be sure to have the funds necessary for travel to and from Pikes. We do recommend having a car or scooter to see more of the island.
GETTING HERE: Fred's Finca is located at:
Carrer de Formentera, 2, 07818 Sant Josep de sa Talaia, Illes Balears
Main number for Freds: +34 666934060
Art Director: +34 683 307 760
Driving: Freds Finca is approximately 8 Km from Ibiza Airport.
All major rental car agencies are available from the Ibiza Airport.
Public transportation in Ibiza is limited to buses and taxis.
There is a bus service from the Ibiza Airport to Avenida Isidoro Macabich in town, with connecting service to other parts around the island. The fare is 1.20 Euros. Buses depart from the terminal every half hour between 7:20 am and 10:50 pm for the 30 minute trip. The buses have room to accommodate your luggage. A bus schedule is available online.
Taxis are readily available at the airport, and they can also be found circulating around the island and at designated taxi stands. A taxi will display a green light when it is available. Fares typically start at 2-3 Euros depending on the time of day, with mileage rates around 1 Euro per kilometer. Out of town fares have higher rates, and there is an additional charge of 1.40 for service from the port or the airport.
FRONT OFFICE: The front office staff is available for assistance.
Internet: Fred's Finca is outfitted with free WiFi.
Freds has these size rooms available for this residency.
Standard, Doubles, Suites, Dorms
RESIDENCY FEE/SECURITY DEPOSIT: All residents are ONLY required to pay a deposit fee of €200 housing/studio security. This will be retuned after the residency
Shared occupancy rooms will be on a first come first served basis as they are limited. The deposit will be refunded after the residency ends, minus any damage fees if applicable. Upon arrival, all residents will be required to remit a current credit card number which will be kept securely on file with accounting and used against any unpaid studio fees and materials. Credit Card numbers will be collected during orientation. All mid term bills and invoices must be paid on time. No additional charges will be allowed until bills are paid.
Alberguista Card
Freds Finca has a unique license of an Albergue Juvenil because of its location in the middle of the Salinas National Park. An Albergue can also be known as a Youth Hostal. Freds must be the most unusual Alberge Hostal on the planet. In order to stay in an Albergue, all guests must be members of Hostelling International. or the Worldwide Youth Hostel Association. This is not a membership exclusive to students, the E Membership is available to all ages. This amazing membership not only allows you to stay in Hostels all over the world it also opens up a world of incredible discounts on airlines, boats, shops, etc.
At Freds Finca, you can either purchase your membership before you arrive or on arrival. It's really simple and great value, you will cover the small price many times over if you utilise just one of the many discounts available to members. Prices start from 3 euros per person rising to 12 euros per year for the annual E Membership, which entitles you to a huge amount of incredible discounts worldwide.
For further information and full details please contact us on our contact form.
Below are some examples of doubles, suites and dorm.
As you can see, each room is aesthetically and invitingly different. You will want to stay in them all.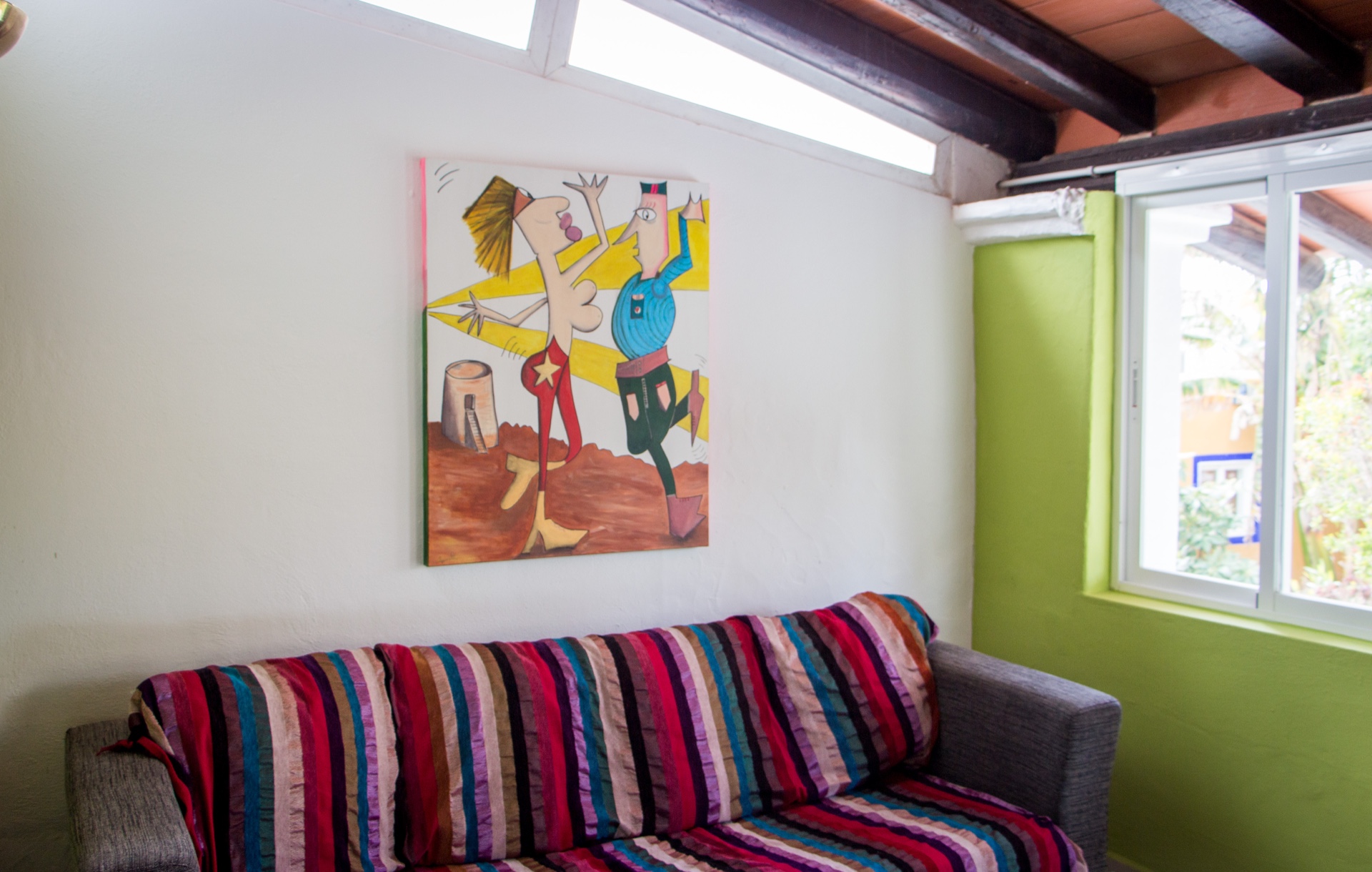 CONDUCT/TERMINATION: Freds seeks to create an atmosphere of a fun and pleasant art community that encourages individual artistic exploration but also respects individual and community privacy. Freds has a zero tolerance policy for residents disrupting this atmosphere, therefore we reserve the right to terminate any resident at any time who we believe threatens the experience for themselves or others.
ADDITIONAL RESIDENCY GUIDELINES Guest Policy: No overnight visitors are allowed, residents guests must seek other accomodations. The front desk can answer any questions about this. Residents may have an outside guest attend the included breakfast in the café but only with pre-approval from the kitchen manager and with 24 hours notice. The buffet breakfast cost is €15 for any resident guest and must be paid at the front desk. Kitchen staff will only make enough meal portions to serve those expected for meals.
Artists residents may not bring pets to Freds.
APPLICATION
To apply, please complete all steps indicated below (in English or en Español):
#1. Send a brief, introductory e-mail to Hello@SpinArtResidency.com containing all of the following:
A. Your current CV or résumé.
B. Artists, painters, and designers: attach five (5) sample images of your works (JPEG, PNG, or PDF format, 72 dpi, maximum 2 MB each file) and a brief statement attesting that all works are of your own original creation.
#2. Pay your non refundable application fee of €25.00 by clicking the BLACK LINK at the BOTTOM of this page
#3. Fill in the questionnaire below.